Alexander Donath - Director
photo: Sabine Bergk
Visit the photo galleries of Alexander Donath's productions
The multitalented young stage director Alexander Donath is forging a distinguished international career. Most recently, he directed Il barbiere di Siviglia at Germany's Theater Hof and Der Rosenkavalier for Michigan Opera Theatre in the United States.
He staged his first production of Puccini's La Bohème in 1992 at Walnut Creek, California's Festival Opera. In 1997, he directed Mozart's Die Zauberflöte for Opera Româna Timisoara in Rumania.
From 1987 to 1992, he worked as assistant to Harry Kupfer on the now legendary production of Der Ring des Nibelungen at the renowned Bayreuth Richard Wagner Festival. Other productions with Mr. Kupfer include Mozart's Idomeneo and Bizet's Carmen at Berlin's Komische Oper, and Massenet's Werther at the Hamburgische Staatsoper.
He later served as assistant director at the Bath & Wessex Opera and contributed to new productions of Purcell's Dido and Aeneas and Puccini's La Bohème with renown soprano Renée Fleming. He also assisted on a new production of The Ballad of Baby Doe by Douglas Moore at Austin Lyric Opera in Texas, and participated in Germany's Spandau Summer Festival.
In addition to opera, Alexander Donath has worked in the legitimate and musical theatre, and regularly works on classical music programs for Germany's NDR television in Hamburg.
A man of many and diverse interests, Mr. Donath is a student of the Law and Business Administration, he holds graduate degrees in Theatre Science and Developmental Psychology, he has been an instructor of Theatre Science at the Institut für Theaterwissenschaft in Berlin. He is also co-author of the stage play, Speechless.
PRESS ACCLAIM
Strauss - Der Rosenkavalier:
"Alexander Donath broke with tradition and the libretto in several instances. The opening scene, for example, had the Marschallin and Octavian on the floor, post-coital; at opera's end, though an unpeopled stage is called for, the page enters with another servant, and together they scamper around the intertwined bodies of Sophie and Octavian, pre-coital. Is it an improvement? It is poetically apt, though just a bit blatant."
THE OAKLAND PRESS - Michael Margolin - April 2000
"Michigan Opera Theatre's current production of this bitter-sweet tale of romantic love is an entertaining gestalt, replete with many smart and lovely moments, most furnished by the leading female voices and deft stage direction of Alexander Donath…Alexander Donath's efficient direction nicely balances buffoonery with seriousness. There are many poignant details, including an inspired reflection of the Marschallin's lost youth as she sings of the inevitable march of time."
DETROIT FREE PRESS- Mark Stryker - April 2000
Rossini - Il barbiere di Siviglia:
"The director (Alexander Donath) was born in 1968, but that doesn't mean he mimics the 1960's criticism of capitalism. He does not ruin the opera by trying to use it to teach a lesson, he uses characteristically exaggerated scenes and situations to bring insight."
FRANKENPOST - Michael Thumser - March 2000
"This Rossini is absolutely modern - in spirit of the age…In addition, Alexander Donath set this masterpiece in a stylized present time…Time and again, there was applause for the staging and in the lively conclusion several 'bravos' were also mixed in for this animated production of a high level."
NORDBAYERISCHER KURIER - Alexander Dick - April 2000
"The talented young director, Alexander Donath, set Beaumarchais' 18th century Seville in a toy store. In addition, the movie projection that came on and off was a second unfamiliar device that served the staging well."
BAYERISCHE STAATSZEITUNG - Horst Pöhlmann - March 2000
Puccini - La Bohème:
"Director Alexander Donath emphasizes the youth of these characters with lots of pranks and games between Rodolfo and his attic roommates. Where it counts, though, Donath lets Puccini's music do the work."
CONTRA COSTA TIMES - Robert Collins - July 1992
Wagner's Der Ring des Nibelungen at Bayreuth; Mozart's Idomeneo at the Komische Oper, Berlin; and Massenet's Werther at the Hamburgische Staatoper, Hamburg:
"Alexander Donath's active intelligence, his pleasant radiance, politeness in association with superiors and colleagues brings him rapidly to a special place with a director's team. I would appreciate the opportunity to work with Alexander Donath again at any time."
Harry Kupfer - 1991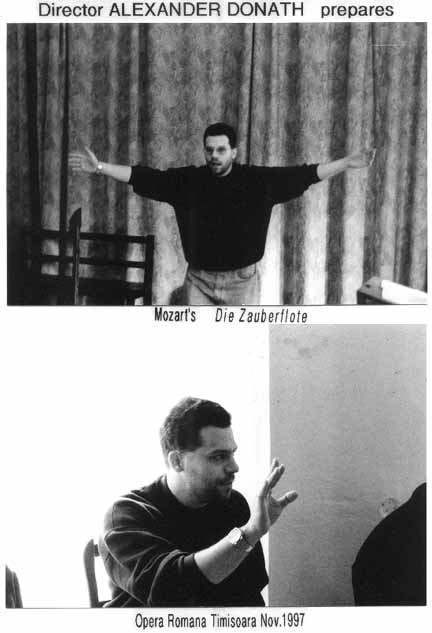 2000
Der Rosenkavalier
Michigan Opera Theatre, USA
Director
Il barbiere di Siviglia
Theater Hof, Germany
Director
1997
Die Zauberflöte
Opera Româna Timisoara, Rumania
Director
1991-Present
classical music programs
NDR TV Hamburg, Germany
Assistant Director/Assistant Editor
Schleswig-Holstein Musik Festival
Clara Schumann Portrait
Belcanto-Gala I Cestelli
Künstlerportraits Ning Liang und Simon Yang
Recitals with: Jane Eaglen, Christoph Eschenbach, Renée Fleming, and Günter Wand
1996-7
The Ballad of Baby Doe
Austin Lyric Opera, USA
Assistant Director
1993-96
courses in Theatre Science
Institut für Theaterwissenschaft Berlin
University Instructor
1992
La Bohème
Bath and Wessex Opera, UK
Assistant Producer
1992
La Bohème
Festival Opera, USA
Director
I'm Getting My Act Together And Taking It On The Road
Open Air Musical Festival, Berlin
Production & Directorial Assistant
1991-2
Dido and Aeneas
Bath and Wessex Opera, UK
Assistant Producer
1990-2000
Freie Universität, Berlin
MA Theatre Science
Freie Universität, Berlin
MA Developmental Psychology
1987-92
Der Ring des Nibelungen
Bayreuther Festspiele
Assistant to H. Kupfer
Idomeneo
Komische Oper, Berlin
Assistant to H. Kupfer
Carmen
Komische Oper, Berlin
Assistant to H. Kupfer
Werther
Hamburgische Staatsoper, Germany
Assistant to H. Kupfer
1989-90
Universität Bayreuth, Germany
Cert. Law & Business Administration
1988-89
Military Service, Germany